Monday 30th March 2020
'Hot' and 'Cold'
With the recent dramatic rise in the number of coronavirus patients there has been a seismic shift in the pattern of patients admitted to hospitals and an increase in the demand for hospital beds. From my own ongoing experience I can attest to this. In my hospital there are preparations for the entire upper floor to be dedicated to dealing with coronavirus patients. With all COVID-19 negative patients being moved to the lower floor. This creates a 'hot' zone on the upper floor and a 'cold' zone on the lower floor.
Similarly, there are talks of 'cold' and 'hot' hospitals to deal with the changing pattern of patients in hospitals. This is already starting to take shape with some urgent and semi-elective operations now moving from Edinburgh to Glasgow's Golden Jubilee Hospital. This hospital has no A&E and only admits patient's electively. It also has only side-rooms and no four-bedded bays such as many other hospitals. These two factors ensure that infected patients are unlikely to spontaneously arrive at the front door and that the hospital will not be inundated with emergency admissions. Side rooms ensure easily isolation of patients apart from one another and hence reduces the transmission of any infection from patient to patient. This is due to be trialed with some of our surgical patients from tomorrow.
Fielding military tactics against coronavirus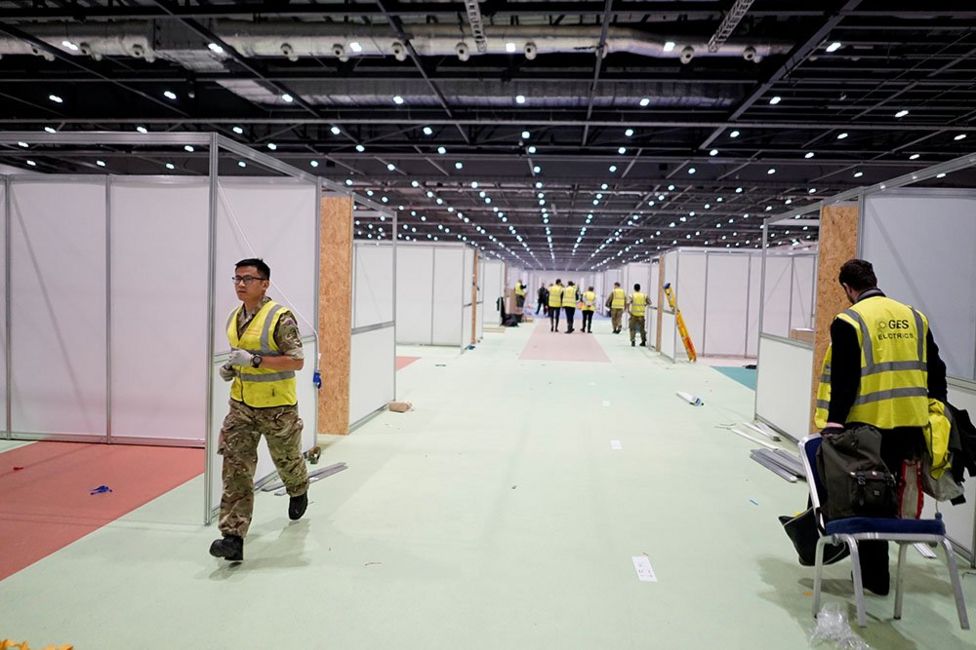 Today, I read an interesting article on the growing number of field hospitals around the world. The UK has created its first field hospital- NHS Nightingale at the ExCel Arena in London with plans for several others around the UK in the coming weeks. The ExCel Arena is an international convention centre, sitting on a 100 area site at the Royal Victoria Docks. It hosts a variety of international conventions and shows. Such conventions have included the British International Motor Show and MCM London Comic Con, which hosted over 130,000 people in May 2016. However, the ExCel arena is now home to a 4000 bed field hospital dwarfing the UK's largest hospital in Tooting, London but some 2700 beds.
Field hospitals have traditional been erected in conflict zones. There is an almost synonymous association of field hospitals to war zones, with strong military connotations. The military have also been drafted in to design and run logistics on the development of the field hospital. Military medical staff and clinicians from the NHS will battle together on the frontline of NHS Nightingale, living onsite and working in six-week rotations. (1)
The UK is not alone in its approach to dealing with the growing demand for hospital beds. Field hospitals have been built in Iran, Italy, Spain, Gaza, Florida and even Central Park, NY. (2) Much of the airline industry has been grounded. Easyjet recently announced that it has halted all airline travel and all staff are to go on furlough. There have been discussions in the UK that some of these airline staff, who are typically first aid trained, could be asked to staff the new UK field hospitals to assist nurses and clinicians by acting as support workers. These staff would not be directly involved in clinical care but would be hugely valuable in the day-to-day maintenance of the hospital and it's smooth operation.
In war countries must go to extreme measures. More recently we have started seeing those same measures enacted through use of military personnel, logistics and tactics to survive. The message is clear: we are at war with the virus.
Tomorrow, we will look at drug pricing in the context of the ongoing pandemic.